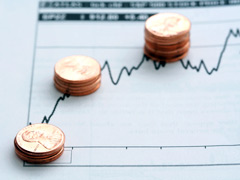 Because the oil prices have soared in the last few years, investors are increasingly looking into putting their money into oil penny stocks. These are also known as micro stocks, nano stocks, or oil small cap stocks. Oil penny stocks make an attractive investment, because they are affordable to virtually any investor due to their low prices.
However, to be successful at trading oil penny stocks, you must understand some fundamental key factors about investing in them. The first of these is that there is a lower market value for small cap companies compared to major exchange traded companies, and these small cap companies are usually not worth more than $4 million in tangible assets. Generally, these oil penny stocks are riskier than mid and large cap stocks, because these companies have fewer assets.
Another important thing for you to consider is that picking the right penny stock is of utmost importance. Doing so is already difficult, because you've got thousands of competing stocks to choose from, making this the most tedious and challenging part of investing in oil penny stocks. This requires a lot of research and diligence from the investor.
There is usually considerable potential for quick profit with oil penny stocks, which is why a lot of investors overlook the risk factor involved. Don't let the notion of making quick profits make you get carried away and forget about the risks that any penny stock entails. Generally penny stocks are much riskier than all other stocks in the markets, and you should always remember this.
Nevertheless, if you are serious about investing in oil penny stocks, here are the 3 main steps you need to take:
1) Contact the Securities and Exchange Commission (SEC) and use this agency to research company filings. Major stock exchanges don't usually list oil penny stocks, but these are traded publicly on the OTC (over-the-counter markets), which are referred to as
Pink Sheets
and the Bulletin Board.
2) Use a broker to place your order. There are currently no

ETFs or dedicated mutual funds
for oil penny stocks, but it is possible to sell and buy them through a broker in the same way as other exchange-listed stocks. All of the oil penny stocks are easily recognizable with designated ticker symbols.
3) You should keep track of the company's business and investment closely; preferably call the management there and keep in contact with them. Examine the business undertaking of the company, as well as its financial results. It is better to invest in oil penny stocks than just use them for trading. They don't fluctuate much in price throughout the day and from one day to another, so there is little opportunity for day trading them. This longer term investment provides opportunities for long-term holdings and low-budget buying, which could potentially have high rewards.
For more information on penny stocks, go to:
http://en.wikipedia.org/wiki/Penny_stock
Leave a Reply